Our Best Value for a Professionally-designed 3 Page StarterWebsite Design and Build Service
We will work with you to create a beautifully styled affordable beginner website.
Our Starter Website Design & Build Service will start you off with 3 of the most needed website pages to make your business stand out.
Select from a wide variety of layouts for your pages, customize with your colors, images, fonts, and text.
Consistent Website Navigation and Footers are features on every page of your website. Your will get a responsive website that displays on mobile and desktops devices.
Our 3 Page Starter Website is expandable to allow you to add more pages as your business needs grow.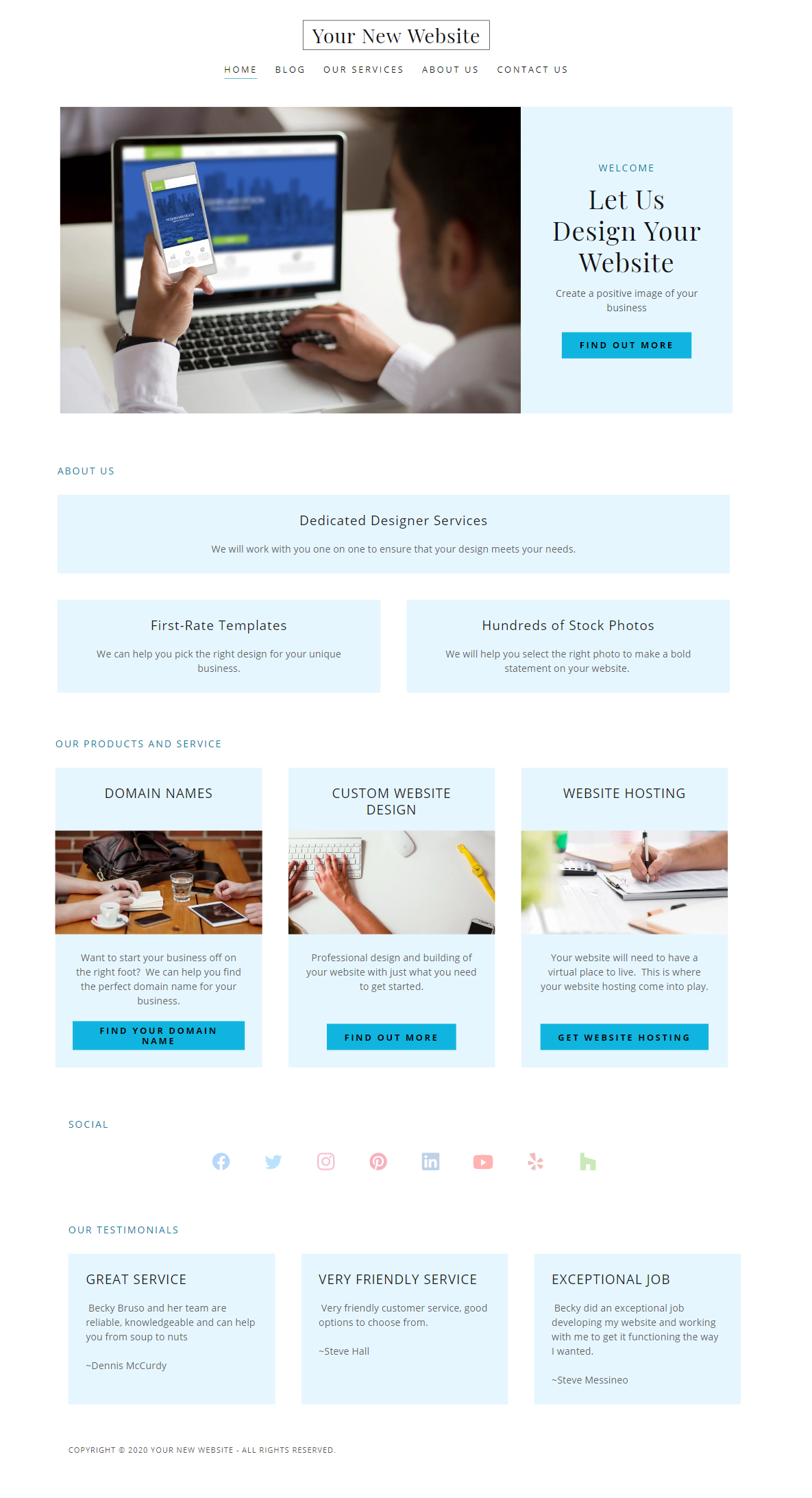 ---
More About Your Starter Website Page Details
Products or Services Website Page
Put your best foot forward and showcase your products and services.
About Us Website Page
One of the most widely read pages on your website is your about us page. Feature your founder's information, company history, and your mission and vision.
Bonus Contact Us WebsitePage
Give your website visitors a way to reach out to you with a Contact Us Page that will send you an email when your potential customer fills out the form. Provide directions to your business and more!
Click Here to See Home Page Top Layout Choices
Some of your Layout Choices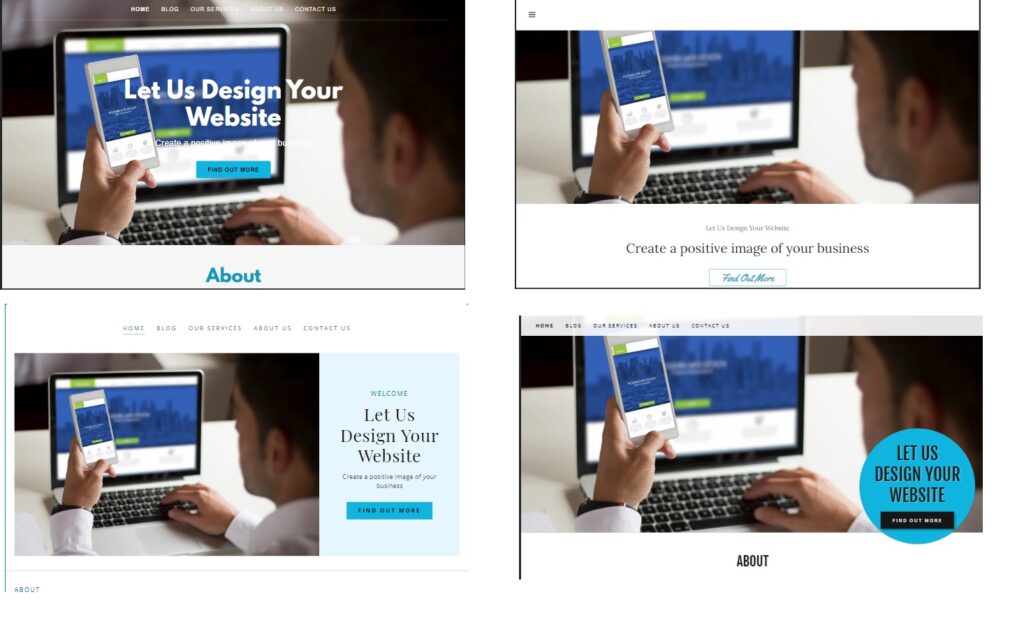 Click Here to See Page Section Choices
Many Section Design Choices
Add a Blog

Create a Promotion

Add a Simple Text Block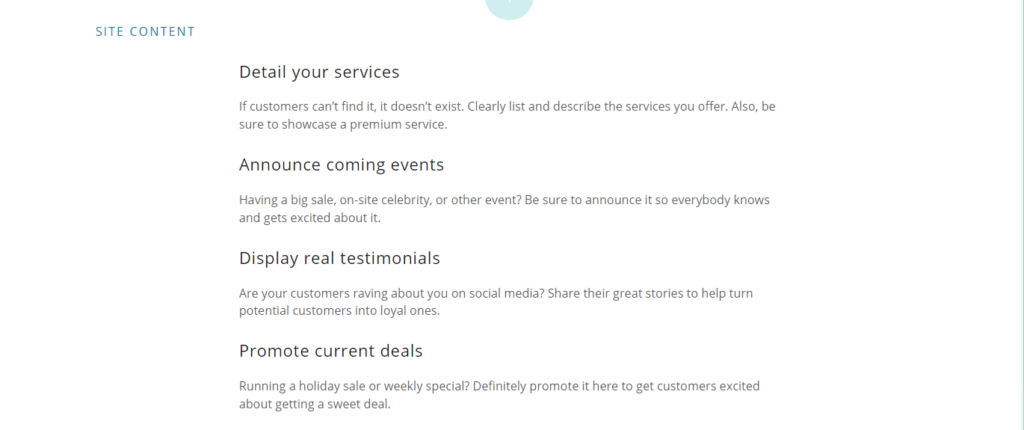 Stack your Products or Services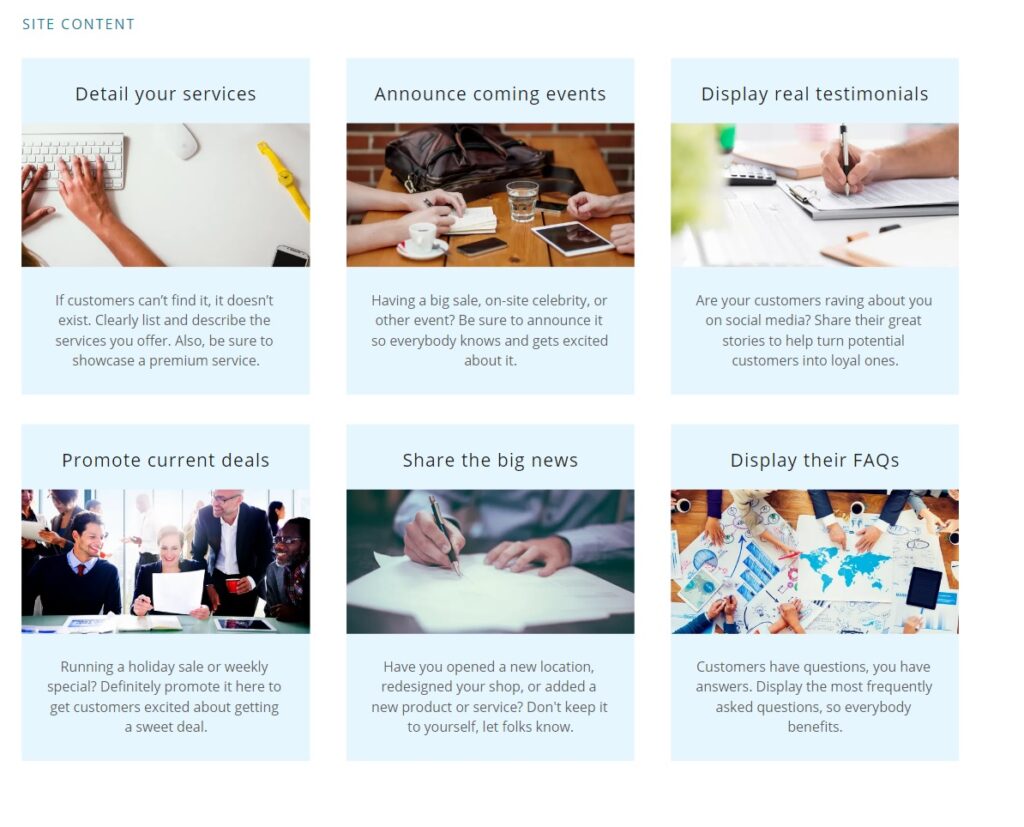 Starter Website Design and Build Service Cost
*Service Pricing excludes Domain Name & Website Builder & Hosting Fees. See Starter Website Project Costs Grid below.
Starter Website Design & Build Service requires Purchase of Domain Name & Website Builder & Hosting from us.
---
Starter Website Project Costs
| Website Product or Service | Purchase Frequency | Purchase Cost |
| --- | --- | --- |
| Domain Name Purchase | Annually | $16.99 |
| Website Builder & Hosting | Monthly or Annually | $13.99 or $159.88 |
| Website Design & Build Service | One Time | $399 |
| Total First Year Cost of Website | | $575.87 ** |
** If you select monthly payment for the Website Builder & Hosting, your start-up costs would be $415.99 and then $14.99 each month for the Website Builder & Hosting fees.
Please note that Domain Names and Website Builder & Hosting Fees are recurring website costs.
---
Your Starter Website Design And Build Service Shopping List & Buying Links
Get Your Domain Name Or Transfer Existing Domain Name

or
Get Your Website Builder & Hosting

Choose from these affordable pricing options:

1 month Starter @ $13.99 for the first month

or

1 year Starter @ $159.88 for the first year!
Get Your Website Builder & Hosting
---
---
How Our Starter Website Design And Build Service Works
After Purchase, we will setup a Zoom Call to go over your design choices and reivew your website design preferences, color choices, and fonts.
Next, we will ask you to send us your logo, images, and text. We have a wide choice of stock images to choose from if you don't have images of your own.
You will identify your design choices and logo, images, and text and we will come up with your webiste layout and design.
We will review these with you in a Zoom session where you will get to edit and provide feedback.
You will get one live edit session after which most clients are ready to go live. Extended edits beyond this may result in additional charges.
Additional Pages can be added and will start at $49 per page based upon the page features needed.
---
Fill Out This Form to Ask Us Any Question About This Service
---
Why Choose The BizPal Company, LLC
We have spent over 36,260 hours working with clients of all shapes and sizes!
We understand what it feels like to be a small business owner trying to navigate everything that needs to be done to get your business off the ground.
Our goal is to make building your website as easy and affordable as possible!
Our website products offer 24/7 support after your purchase. Giving you the peace of mind to get help when you need it most!
You can trust The BizPal Company, LLC to provide you with the tools you need get your website and website marketing online!