How to Schedule a Post or Page for a Future Publication Date
Written by Becky Bruso
In this post we will explore how to schedule a future posting date for WordPress posts and pages.   This article will detail how to schedule these with written instructions including images of the how-to process in action.  
I have also added a short desktop video which demonstrates exactly how to add and change  scheduled posting dates for posts and pages.  It includes audio instructions as well. I wrote and recorded both methods to provide you with the ability to pick which method is best for you to see how scheduling works.  
WordPress Posts and Pages have an awesome feature which allow you to write your content now and set it up for automatic publication at a future date.  This frees you up to do other things without worrying about going in and manually updating a post or page every time you want to publish.
Setting aside one day to write, edit, and schedule your posting efforts for a specific time period can free you up to do a lot of other business activities.  This will help you plan and organize your content and content updates to enable you to align with your strategic promotions and efforts. 
Let's take a look at how to add a future scheduled date to a post or page.
Video Demonstration of Scheduling Posts and Pages for Automatic Future Publication Date
Written Instructions on How to Schedule Posts and Pages for Automatic Future Publication
To change the publication date or set the publication date to a future date, go to your WordPress dashboard.  Click on Posts, then select Add New (if you are adding a
new post) or All Posts ( if you are working with an existing post).  
The beauty of this feature is that it operates exactly the same way for WordPress pages.  Thus, if working on scheduling pages, click on Pages, then select Add New (if you are adding a new page) or All Pages ( if you are working with an existing page).  
The Publish panel section looks exactly the same on posts as it does on pages.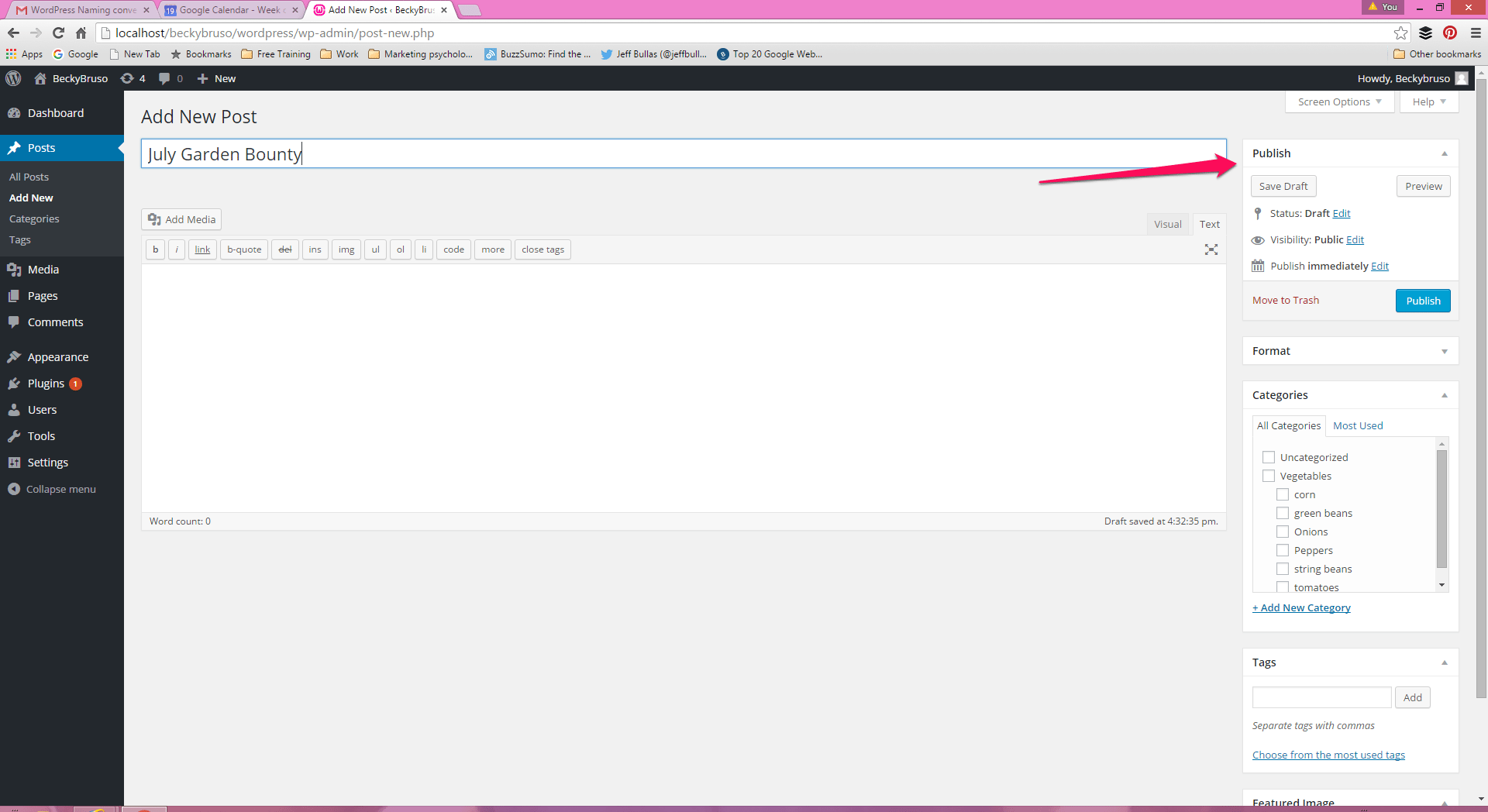 Once within the post editing screen, you will note there is a Publish panel section which is usually to the right of your post or page editing screen.
By default, posts and pages are set up to be published immediately upon clicking on the Publish button.  You can change this behavior to be more in line with your individual posting schedule.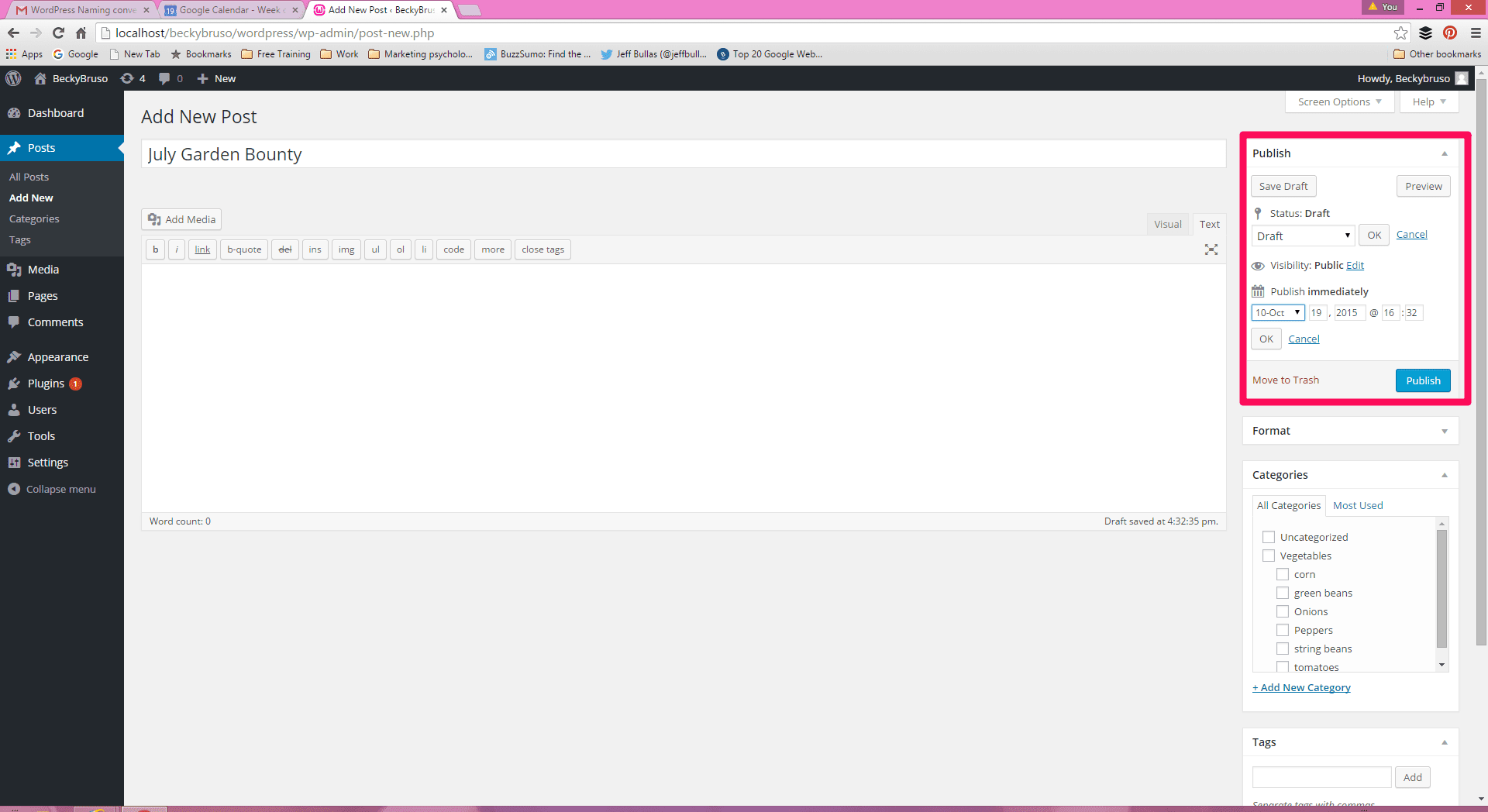 If the publish panel section is not visible, go to the upper right hand corner of your editing screen and click on screen options.  Under screen options, you have the ability to select whether you want your editing screen area to be one column or two columns.  
The image below shows you where and how to change from 1 column to 2 columns.  These options only apply to your private editing area and not to the visual presentation that your web visitors will see on the front end of your web site.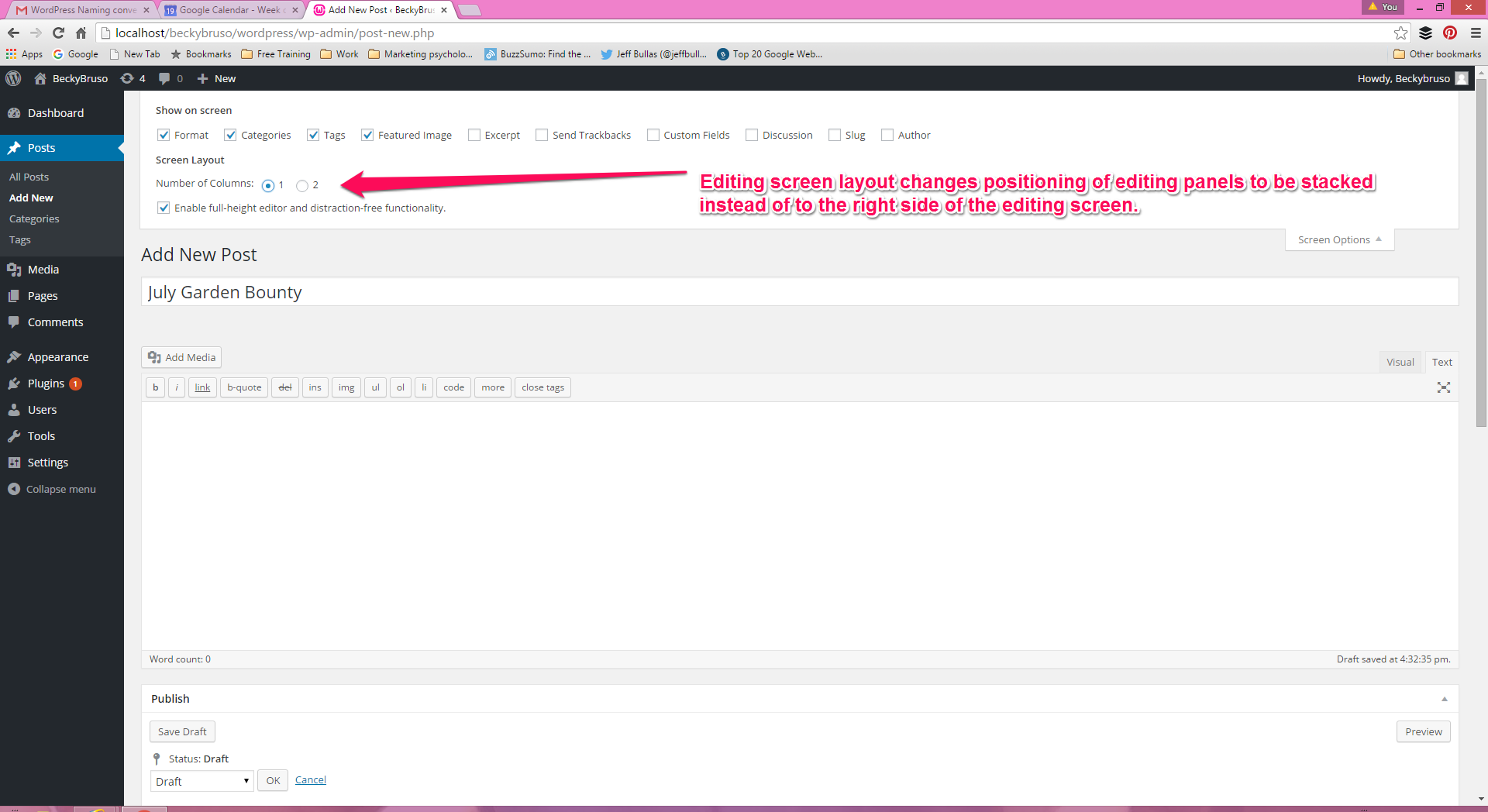 Now that the screen options are set, let's take a look at setting up a future publishing date.  You may select the month, day, year, and time of day you wish your post or page to be automatically published.  
After you have selected a future publication date by clicking on okay, you will note that the Publish button changes to say Schedule.  Click on the button that says Schedule to confirm your future publication date.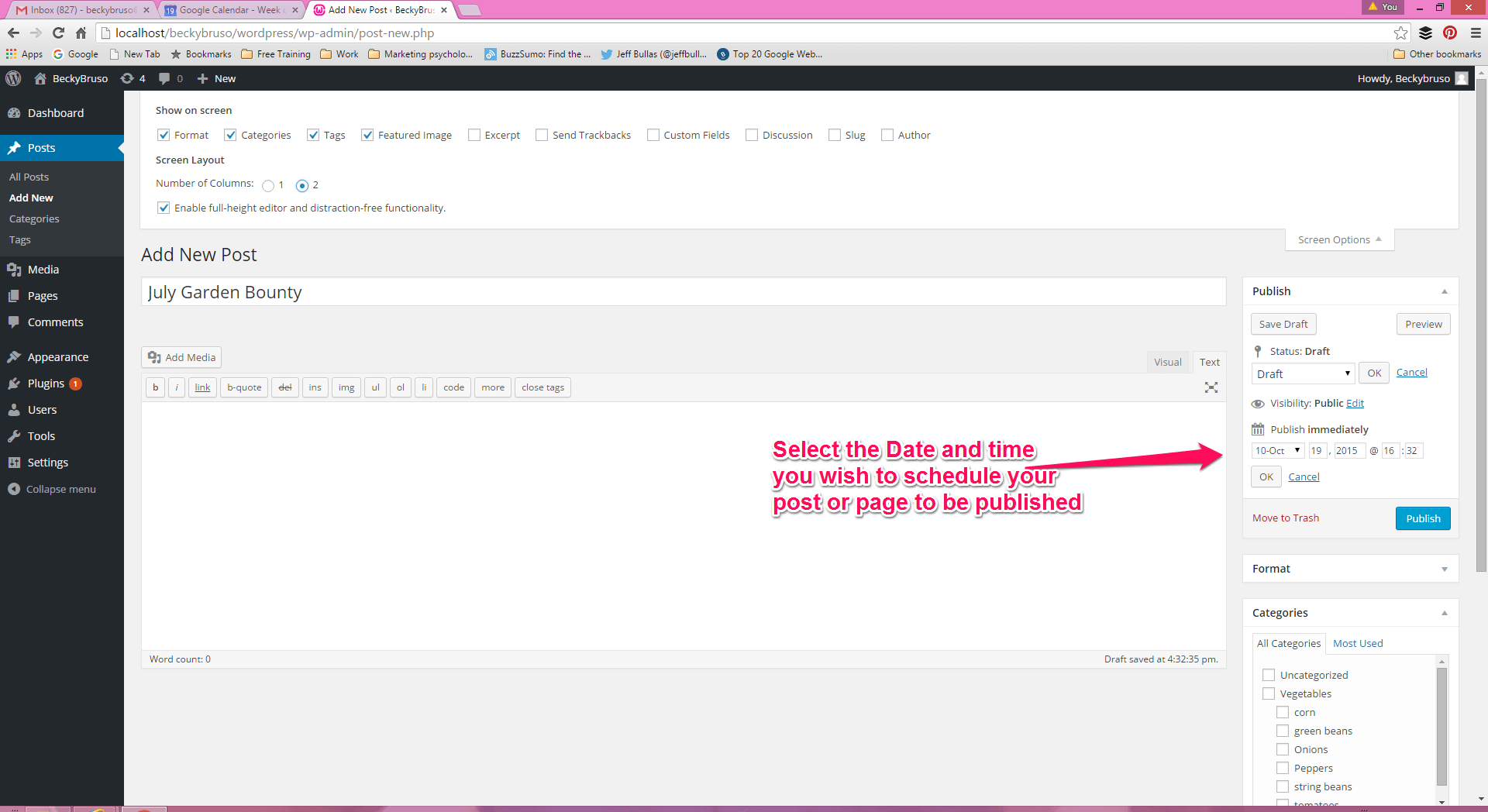 You will note that the button has changed from saying Publish to Schedule.  Click on the button that says Schedule to confirm your selected publication date.  
Once this date is selected (by clicking on Schedule), your post or page will automatically be published on that date and time without any further need on your part to monitor or publish it.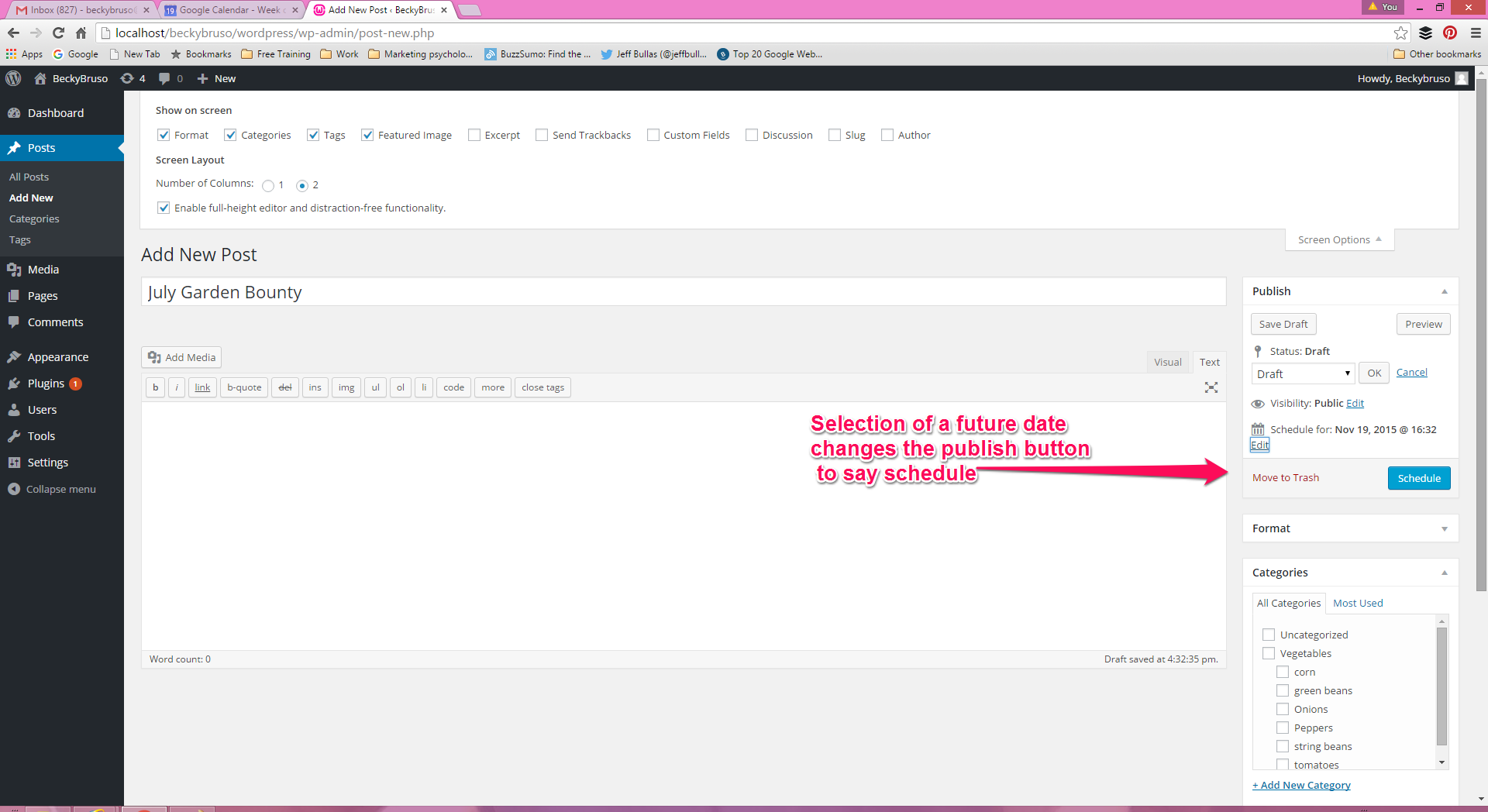 After completing your scheduling selection, you will note that the button has now changed from saying Schedule to Update.  
Should you need to change the publication date, you may do so by editing the post or page and going back into the published date by clicking on the edit link next to the scheduled publication date.  Once you have changed your publication date, you would then click on the Update button.  These steps are shown in the image below.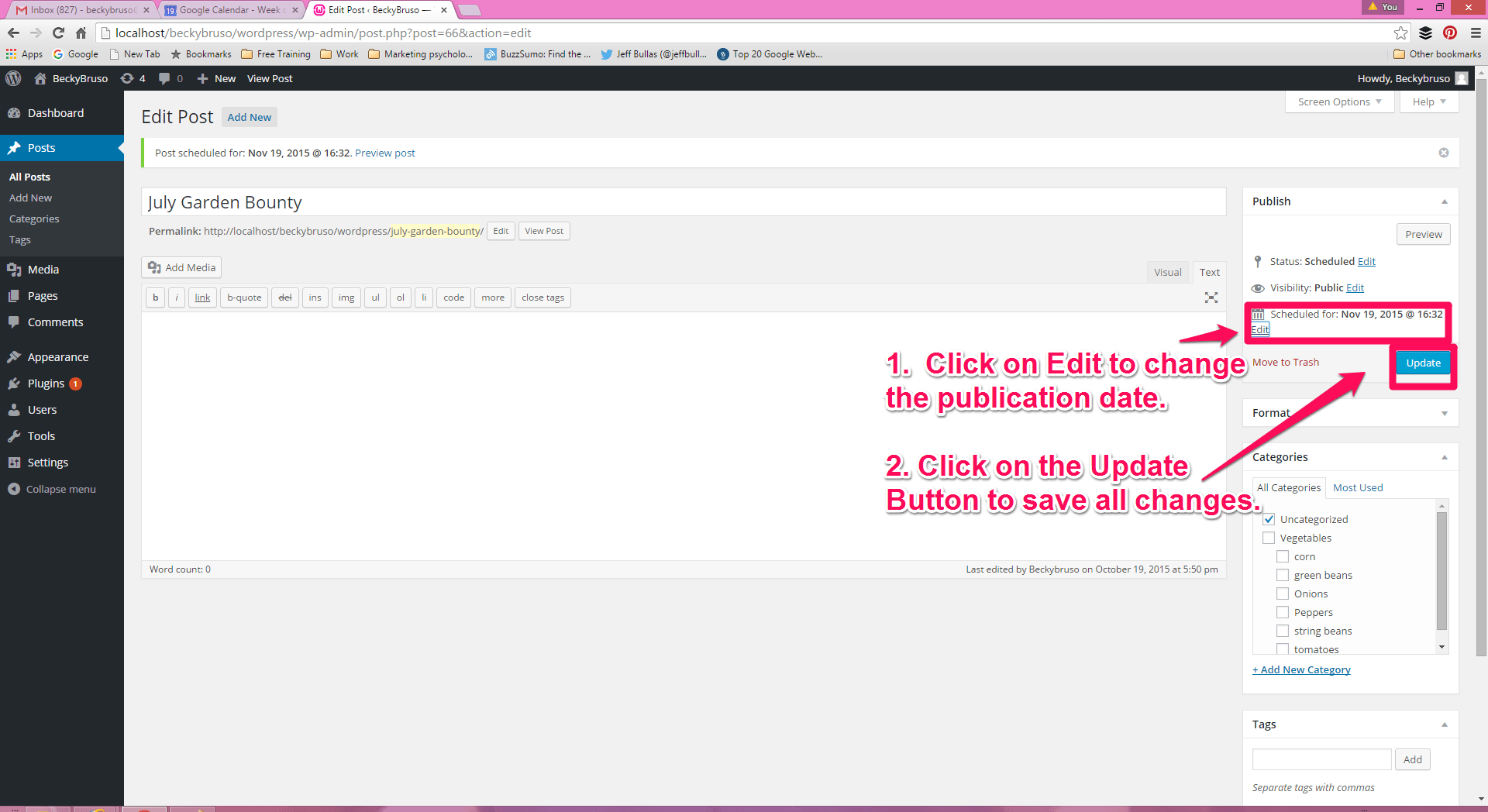 You should now have the knowledge of how to schedule your posts and pages to automatically publish when you want them to.  
What can go Wrong with Scheduled Publish Dates?
I have not run into any scheduling snafus with setting up future publication dates from a web site operational perspective.  
The only gotcha I can think of is that you might be creating a draft and be actively working on something which you have set a future publication date for.  
This is more of an individual workflow processing gotcha.  My workaround for this scenario would be to always keep your posts and pages that are work in process, as private, and not actually schedule them until such time as you consider them to be final and ready for world viewing.   😉