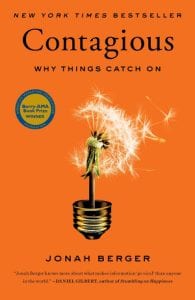 Contagious:  Why Things Catch On Concept Review by The BizPal Company, LLC
Article Written and Reviewed by Becky Bruso
I found this really great resource in a book written By Jonah Berger.  It talks about what really makes ideas catch on.  Berger and his associates back this work with the science of studying information for over a decade.  
Turns out our emotions are even more tied to our actions than originally thought, especially when looking at online content.  
Our reptilian brains are still ready to react.  Berger explores what types of emotions are most likely to trigger a viral piece of content and much more.  
What I liked best about this book for small businesses?
I think that self-employed and small business owners have a lot on their plate.  When it comes to marketing know how and more specifically, how to tune into our customer's needs; we could all use a tune up. Berger and his team have been able to categorize what type of information is truly contagious and provide such a marketing tune up.  
Reading this book gave me this very tune up and has helped me tune into my messaging.   
You'll get insight into the phenomenon of why people will actually buy a $100 Philly Cheese Steak, why anti-drug commercials might have actually increased drug use, and why millions of people actually shared a really unremarkable product like a blender.  
You'll understand the types of emotions which impact consumers the most.
According to Berger, these are positive and negative and the strongest reactions.  They are triggered by Awe, Anger, and Anxiety.  Since these  create physiological arousal which automatically stimulates our reptilian brains.  
We are hard-wired to react more strongly to these and be ready to act upon these messages with these emotions embedded within such stories. 
Stories wrapped around products that induce arousal states of awe have a better chance of being shared.
When these emotions are wrapped into product stories, they are more likely to be stir our customers to action, too.
Highly shareable information subscribes to the WIFM (what's in it for me) channel.  
Turns out one of the key reasons we share information and stories is that we think the telling of the tale will make us look good.  A lot of highly shareable information hides as idle chatter, according to Berger.
After reading this book, you will never look at the content you see on social media  or what you hear around the office water cooler in the same way.   Not to mention the language you use to describe your products and services.
How I used it?
I started to really think about what I was saying online and in live networking settings and how it impacted my readers/followers/customers emotionally.  I wanted know how what I shared impacted others.  I began to pay attention to what information was really communicated during what Berger has termed as "idle chatter".  
I found that my presentations were feature rich and emotionally light.  I am working on integrating more of these concepts into new messaging efforts.  
I created a grid of the key types of information that get shared and step through this grid each time I create my marketing materials.   
My favorite quote from this book follows:
Top of mind is tip of tongue

-Jonah Berger 
How long does it take to implement ideas from the book into your business? 
Immediately after reading this, you won't look at marketing messaging in the same way.  Working it into your own messaging is challenging.  
At least I find it so, since so much of my writing was academically inspired by writing factual and blandly.  
Translating these facts into stories is an ongoing effort.  I also find it highly interesting to take note of what works and doesn't work.  
Why I recommend it?

 
This book is an eye opener to self-employed business owners marketing their products.  It will help business design messaging, marketing, and information people will share.
It shines a light on why the message is just as important as the product.
So many times I see people who believe in the build it and they will come model.  Sure, they might have a really great product but the messaging might be stated more in terms of features.  
Features alone aren't rich and meaningful unless infused with emotion.
Features sometimes get stated in flat factual language without personality.  
Berger and his team have proved that infusing a message with emotion and delivering it with a story is powerful marketing material.  
Create a story that is remarkable, shareable, and makes the sharer feel like an insider and you will have a winning message.  
The BizPal Company, LLC can help you save time and effort to bring your business ideas to life.  Contact me for a free consult today to help you outline your goals and plans.