Business Model Generation Book Used by The BizPal Company, LLC
Written and Reviewed by Becky Bruso
To build my business model, last summer I found an invaluable resource to develop the model I wanted to use for my business. 
This was the book,  "The Business Model Canvas" Written by Alex Osterwalder and Yves Pigneur  together with 470 contributors in 45 countries.
For a very quick intro into the framework and process, take a look at this YouTube Video about it.
What I liked best about this book for small businesses?
Many times as small business owners,we have a great product or service but might have tunnel vision with how to go about figuring out who and where to market our goods.  This book helps take the blinders off by working through various methods of delivery using the framework of the customer mindset. 
Many small businesses do fail, this book helps you try to model it out on paper. 

This is way less painful than getting down the road several months or years into your process only to find that you have been on the wrong path

.  The end goal is to be able to avoid or find stress points which could make or break your business on paper!  Before you spend any money on building out products and delivery channels.
The only investment you need is a little bit of your time. 
How I used it?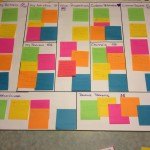 I started with my idea for services and products and began with this.  I created a jumbo sized flip chart diagram of the business model canvas for myself and bought a lot of colorful sticky notes.  I went through and defined in painstaking detail, each of the components of the business model canvas. 
In the end, I wound up with identifying 5 market segments with three of those being niche markets.  Mid way through, I decided to color code these individually as the value propositions for these segments has some significant variation.   
How long does it take to use it to create your own plan? 
I took a good two weeks of steady effort 8  hours plus, per day roughly, to work through and develop my business model. 
Why I recommend it?

 
This book is highly visual and it really helps you think through the assumptions you make about your customers by translating it into a workable business model.  It helps you to challenge your beliefs about why customers buy and how (what channels)  and identify new methods and channels which might also work.
Each pillar of the business model canvas has specific questions designed to drill deep into the psyche of your customer.  Following it step by step will surely uncover some insights for any business owner at any phase of their business life cycle.
The BizPal Company, LLC can help you save time and effort to bring your business ideas to life.  Contact me for a free consult today to help you outline your goals and plans.