What you need to Know to Build Your Website Navigation Menu
Your Website Navigation Menu serves as the traffic director to route your website's visitors to the information they are looking for on your website.  Navigation menus must be designed with the website visitor's purpose in mind.  It helps to think about what jobs your website is performing for those who use the website navigation menu.  Ask yourself, what are they looking to complete?
Some common information that website visitors look for are your about you page, your contact information, and perhaps directions to your physical location.  Website visitors are also looking to find a way to navigate to any product or services  you offer.  Make sure that the website navigation menu links to these key pieces of information and that they are clearly labelled.   
Creating your website navigation menu can be simplified by using these  5 basic tips.  You also want to be sure to have the menu navigation of your website be consistent on every page.  
Top 5 Tips  to Creating Your Website Navigation Menu
Consistency matters.

Avoid multi-level menus and drop-downs within menus.

Use color to help website visitors identify what page they are on. 

Use short descriptive labels for navigation menus.

Trim Navigation Menus down to avoid visual overload.
Website Navigation Menu: Consistency Matters
You might be tempted to use clever placement of navigation to be different than other websites.  This may not always be the best idea as website visitors have come to expect certain behavior when they visit a website.  If they need to hunt for how to navigate through the material on your website, they may decide to click away. 
This is especially true when faced with the split second decision of whether to continue on your website or to click away.  Make sure your website navigation menus operate in a similar way to other websites they have visited.  This will help  your visitors stay focussed on what they came to your website to do.   
Website Navigation Menu: Avoid Multi-Level Sub-Menus
Multi-level sub-menus are confusing and frustrating to navigate for a website visitor.  People generally find excessive drop down menus annoying.  
Consider the different effects both of these styles have when you think about visiting the website image shown below.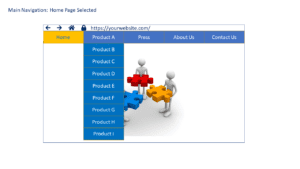 Compare the above website to the revision and simplified navigation menu shown below for the same website.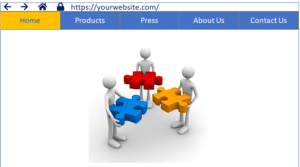 Pairing the home page above with a nicely styled product page such as the one below will help your website visitors to find what they are looking for. 

To organize your content, you will need a little planning to group the various pages you intend to have into categories.  The best results come from putting aside your copy for a day or even a week. Then return to it and take a look at what you have written with fresh eyes.  Then later-rinse-repeat with your write, edit, re-write cycle.  
Website Navigation Menu: Color Coded Navigation Menu
Using color in your website navigation menu is a good idea to help website visitors know what page they are presently on.  The selected menu item text typically changes to a different color when selected also.  This is another pretty basic, but common norm that website visitors have come to expect.   Keep in mind that text should be dark enough or light enough to be readable when placed on its colored menu item background.  Avoid text that fades into it's menu color.  It will be too hard for your website visitors to read.  
Matching your colors to your brand and logo elements adds to the visual appeal of your website and presents a professional image of your business.  Keep your color scheme simple with not too many colors in your pallette.  
Website Navigation Menu:  Use Short Descriptive Labels
Short descriptive labels that are also meaningful to your website visitors are another best practice rule to follow.  Lengthy text is not visually appealing and will detract from your website and will create a sloppy looking visual.    
Website Navigation Menu:  Avoid Visual Overload
Visual overload can happen to your website visitors if they are presented with a seemingly unending list of items in a navigation menu.  It is time consuming, confusing, and frustrating for website visitors to sort through poorly organized information.   
If you have a lot of specialized information about one specific topic or product, consider having specialized sidebar navigation which is unique to that topic appear on that page and only that page. 
If you draw upon your own experience with making choices, can you remember what happened when you were presented with too many options?  Our guess is that you became unable to decide at that moment.  This may even have caused you to go away and either abandon making a decision or do more research.