Register Your Domain Name
To get started on your website you need to have a domain name and register your domain name with a registrar.  The domain name is the friendly name you setup to match your business name or brand.  There are many new choices for the extension used as a part of your domain name.  You can reserve any domain name not used already.  
Technically, you may not care that your domain name is a uniquely named identifier tied to a web server on the internet. It is the part of the web address after the http:// and includes the "." Suffix of .com, .net, .org, etc. For example, https://www.thebizpalcompany.com, where TheBizPalCompany.com is the domain name. Domain names are registered and tracked by a domain name registrar.
Domain names point to physical computer hardware on the internet as IP addresses.   The hardware on the internet typically resides on private networks owned by various organizations.  IP stands for Internet Protocol and translate to a numerical address.
Each device (Printer, computer,etc.) on a network has a unique IP address. Ex: 172.16.254.1 The IP is the means by which these devises can communicate with each other on the internet. One domain name can have many IP addresses.
Networking purists might want to get into more details on this, but the bottom line is if you want to be present on the web, you must register your business domain name through anyone of the approved ICANN domain name Registrars.
The BizPal Company has partnered with a leading service provider who has associations and relationships with approved Domain name registrarts.  We created this relationship to bring domain name registration services to our small business owners.
You can also hire a business services company to do this register your domain name for you, but it is a painless DIY task which will save you money by going directly to any of these service providers and registering your name.  You can use the search button above to see if the perfect name you want for your website is available.  
Add SSL Padlock to Your Domain
After you register your domain name, the second most important option you want to add is SSL.  This stands for Secure Socket Layer and the very technical definition can be found at this link, if you are so inclined to learn these  details.  The bottom line is that once you sign up for SSL, you get issued a certificate.  This certificate tells Google and other major search engines that your website is secure and in turn will display a green padlock symbol in the URL bar.
The most important thing for you to know about SSL is that it adds the padlock to show that your website is secure.  This has become a must do very recently.  Due to the addition by Google to flag any website that doesn't have an SSL certificate as not secure.  There are two bad outcomes that occur when this happens.
First, within the browser bar,  your website will have a red warning triangle that says "Not secure" and the https part of your website url will be changed to red text and struck out as shown in the image below.

Second, your website won't be automatically displayed if the above condition occurs.  Instead, your website visitors will be prompted with the page in the next image.  There is an option with a link to proceed to the "unsafe" page, but it is doubtful that many will click further given this warning.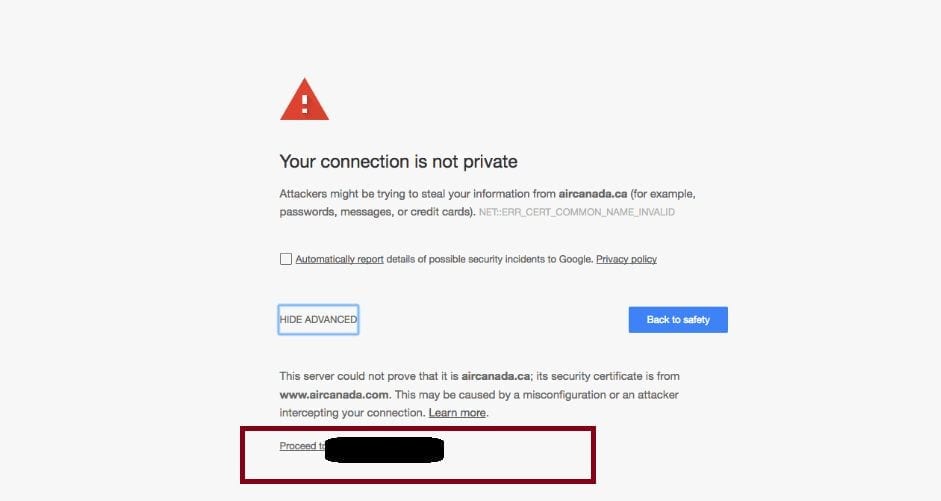 Be prepared for lots of choices on website builders, hosting packages, and other bells and whistles when you get down to the process of registering your name. Remember, you can always add these services later when you are ready. If you mission is simply to reserve the name, then let this alone be your task.