Let Your Website do the Selling for You
Today, our website DIY know how series will talk about making sure that your product and service information is up to date on your website and why this is so important. You will learn why this is important as well as what to think about when your write the copy. The techniques listed below will help you position your content in the best possible light to set your products and services up for future sales.
Is your website missing information on your full suite of products or services or does it list products and/or services which are no longer offered? Having the most current list of your products and services is extremely important. When people who are looking to buy begin to search for them in their quest to buy; you want to be sure your products or services are represented. Studies show that 97% of people search online before buying! Don't be left out of this important part of your prospective customer's decision process.
We get that you are busy servicing customers and doing your website updates might lag behind everything else that you have going on. But this is a critical necessity to build into your selling process. You might not think you have the time or talent to write these product and service descriptions. Here are some tips to help you get started to write up your product and service page content.
Keep Product or Service Descriptions Up to Date
Statistics tell us that over 80% of people looking for a product or service will Google it on the web before taking action. Some sources go as far as saying 97% of potential buyers will search before buying. When they do this searching, they are taking part in what is known as the information gathering phase of buying a product. This a pre-buying activity that buyers engage in when they are trying to evaluate their purchasing options.
This is the only interaction you have with this prospective customer in they early phase of the buyer's journey. You have the opportunity to influence anonymous buyers that your products or service fit their needs. When someone Google's to find products or services like yours, they will find the information you have posted on your website's product or services information pages. These pages act as silent salespeople to help prospective customers learn about what you are offering.
If your products or services aren't listed or don't have the most up to date information you are missing an opportunity to be considered as the solution to the buying needs of these approximately 97% of these Googler's.
Feature your Products or Services Benefits
Your product or service pages on your website are meant to be a platform for you to show off what they can do for your potential and existing customers. Think about using language that sells the sizzle and not the steak.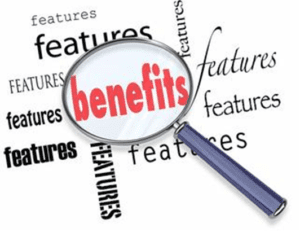 To kick start your thinking on this consider what your product or service does for your potential or existing customers. Use the next series of questions to prompt your thoughts.
Does your product or service make it easier for them to get something done in their daily lives?
Does your product or service make it faster, easier, or cheaper to get something done?
Does your product or service make it possible for them to stop doing something in their daily lives that they don't want to do? Or that they even have an intense dislike of doing?
Does your product or service make them look great in the eyes of their peers, co-workers, or family?
Does your product or service give them a boost self-esteem or otherwise enhance their image either personally or professionally?
For each product or service, select the answer to only one of these questions to play up in your website product or service copy. Don't over do the sizzle by creating a write up that solves all these potential customer problems. Pick the best one and write about how that particular answer is the best solution for them. Always focus on the benefits first, then list the features your product has. We like hiding the features under a click to see more link so that prospective customers can choose when they want to see more information.
Use Professional Imagery
A picture paints a thousand words. If you are selling a product, a professionally taken photo of your product will do a lot of the heavy lifting for you. Be sure to include the ability to zoom in as well as multiple views of your product from every angle.

If you are selling a service, look for a professional photo that best represents your service concept. The concept to represent might be an image that symbolizes the most important benefit your service delivers for prospective and exiting customers.
If you need to understand how to select images online and where you might find them, check out our article on this topic by clicking here.
Use our website DIY know how series to help you build and manage your own website effectively! Watch for the next in this series.
Are you interested in creating your own website?
We offer a wide variety of DIY Website Builder Plans.