WordPress for Web Site Building
Written by Becky Bruso
A while back I wrote a short article with a link to support why WordPress is suitable to use as a tool to build any web site.  This earlier article can be found at this link.
Today, I want to elaborate on this and talk more about why WordPress is a great tool to use to build your web site.
WordPress Helps You Stand on the Shoulder of Giants
I have always been a believer in finding what already works and leveraging this.  Especially when it comes to building code for a web site.  The decision factor for me has always come down to this:
Should I spend hours to try to learn to code this by hand? 
or
Can I find code which already exists to handle this task?
The cost benefit analysis is clear: finding and leveraging what already works allows me (and you) to move on to other tasks that need my (your) attention.
And as we all know, in a solopreneur or self-employed or small business, these to-dos are many and never-ending.
Expert Support for Leverage of WordPress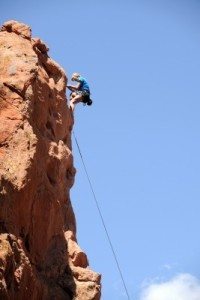 I recently listened to a podcast by Seth Price,VP of Sales & Marketing at Placester ( providing social media and content marketing advice and counsel to tens of thousands of real estate professionals & brands) on October 13, 25015.
In this session, Seth inteviewed Michael Brenner, Head of Content Strategy at NewsCred and formerly of SAP, (find out more about Seth this podcast  here. ) This episode was jam-packed with tons of content marketing know how, tips, and insights which I would encourage you to go listen to or read about.
For this writing, I want to hone in on what Michael said about WordPress.  He really framed some hardline figures about the real dollar savings you get when you leverage an existing solid long-standing community based software tool like WordPress.
Micheal Brenner nailed the concept of standing on the shoulder of giants when he explained about content management tools.
WordPress has a decade of experience with over one million lines of code in place, in an open source fashion. The cost of entry for a publishing platform such as WordPress is so high.

It would cost over 2 million dollars to reinvent the wheel and replicate what WordPress already has in place.

LEVERAGE LEVERAGE LEVERAGE!!

-Michael Brenner
Unless you have the money to reinvent the wheel, the best return for you money is to take Michael's advice.  I have always thought about it this way as well. 
It is great to hear that experts have the same opinions. 🙂 
WordPress Usage Statistics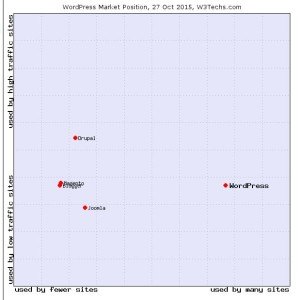 The web site W3Tech.com provides a number of statistics about WordPress Implementations.  At the left is a clip of statistics they have gathered regarding the usage of  WordPress by web site size.
If you take a look at the W3Tech.com site, it provides a wealth of information published about WordPress Implementations and also has a WordPress Market Report which is available for purchase.  This will really help frame the scope of WordPress usage today and its growth rate for the future.
Some good supporting reading about WordPress and its history can be found at the WordPress site.    WordPress has been around since 2001 and as of April of 2015 there were 2,774 themes.  Since this time, there have been countless more themes added.
The WordPress community consists of developers who create themes; plugins; widgets; and not the least of which, is the core WordPress body of code upon which all of these elements are built.
The core code of WordPress is just like the foundation of your home; it pretty much stands no matter what sorts of renovations you add to it.  Themes and plugins are just such renovations.  Themes control the core look and feel of your site. 
Thus, WordPress sites can change themes, just like you would change the paint and wallpaper in your home,  without altering the core behavior of a web site.  This provides an infinite number of possibilities for colors, styles, fonts, imagery and other display features (newpaper, gallery, articles, blogs, etc)  for your web site.
Then there are the plugins.  These are semi-independent software packages of code which can be added to any WordPress web site.  They allow web sites to add,with relative ease, functions like searching a web site, social media sharing, and forms to fully e-commerece enabled stores with payment processing through payment gateways like PayPal.
The majority of the themes and plug-ins are free to download and use.  The WordPress community who consumes these themes and plugins can rate them in the same way that ebay allows buyers and sellers ratings. 
These ratings can and should guide your usage and download of these and direct you to the most popular and maintained themes and plugins; steering you away from those which might behave badly.
More About Web Site Creation with WordPress
From time to time, I will re-post information about WordPress and why using it makes sense.  I do want to caution you however, that it does take some skill to put together a web site with WordPress.
Bottom line is that it pays to have someone who is familiar with the landscape guide your way through the various WordPress options that are out there.  It will save you countless hours of trial and error in your learning and setting up a WordPress web site.
The BizPal Company, LLC is able to assist you with any web site decision from early start-up to completion.  We offer services to either teach you how to build it yourself or we will build it for you.  Contact us today to discuss your options.